Additional financial benefits are expected from reduced overall maintenance costs, along with positive impacts to safety and the environment.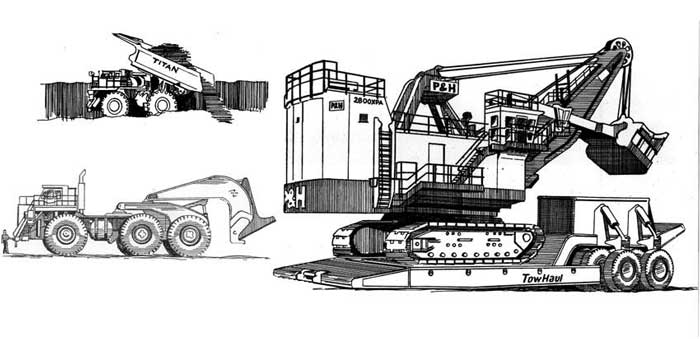 The 1100 Ton model, showing the added outrigger wheels and the rear-mounted drive package for the added wheel motors.

TowHaul and Synergy have collaborated for more than 15 years in the development of large (800- to 1,500-ton) lowboys, with Synergy focusing on the drive requirements by utilizing existing and new electric propulsion systems familiar to today's mining industry. Synergy and TowHaul have now formalized their relationship whereby Synergy has the exclusive marketing rights for large electrically driven lowboys in Chile and Canada.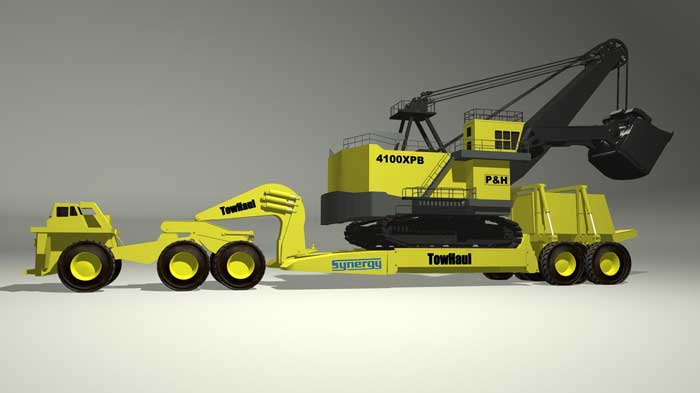 A rendition of the unit currently being proposed to their client in Northern Chile.

Synergy's expertise in large engineered electrical drive systems and TowHaul's expertise in the mechanical design and supply of large lowboys and tow vehicles (using their patented gooseneck design) bring together the best technology available for the supply of large lowboys and tow vehicles.